About BAY
Bellingham Area Youth (BAY) is Congregation Beth Israel's high school youth group, which is affiliated with the North American Federation for Temple Youth (NFTY). We provide a fun link between high-school students and the Jewish community. Our activities include social and spiritual events as well as Tikkun Olam. Check the congregation's weekly e-mail for updates on activities and events.
Meet our adviser: Leah Bordman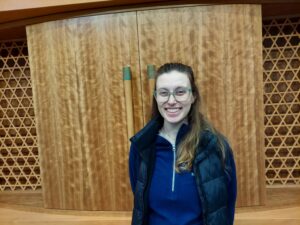 Hi! My name is Leah Bordman and I'm the co-Kesher Director at CBI, as well as the BAY adviser!
I grew up in Vancouver, WA and went to Western Washington University for part of my undergrad studies. I actually worked at CBI as a Kesher teacher while I was in school there!
After that I moved to Jerusalem for a while, and then to Boston for graduate school. I worked as a youth adviser in Rye, NY for two years before moving home to Bellingham with my husband Brandon. We are both so glad to be back in the Pacific NW!
During the year when I'm not at CBI, I'm usually curled up reading with my dog and my cats, or making collage art in my reading journal! In the summer you can find me at URJ Camp Kalsman down in Arlington, WA.
URJ Youth and College Programs
Our family of programs for ages 8 to 26 include NFTY teen programming, URJ Camps, Israel travel experiences and social justice programming at the Religious Action Center. Click this link for more information.
For more information or to register for NFTY NW events please visit www.northwest.nfty.org
NFTY photos from 2019-2020