Membership Committee welcomes you!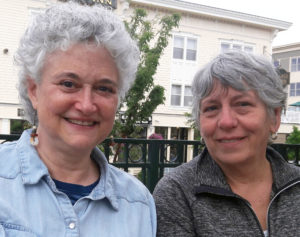 As co-chairs of the Membership Committee, we welcome you to Congregation Beth Israel. Whether you are a longstanding member, a new member, an out-of-town visitor, or someone just curious to learn more about our synagogue, our committee is here to answer your questions and be of service.
Congregation Beth Israel's membership includes more than 200 families – mostly from Whatcom and Skagit counties in Northwest Washington state. We are a Reform congregation, affiliated with the Union for Reform Judaism (URJ).
The Membership Committee is here to respond to requests from prospective members about our congregation and also our region. If you are from out of town and will be visiting Bellingham, please contact us ahead of time and one of us would be happy to show you around and give you a tour of our city. If you are new to the area and decide to attend Friday night or Saturday morning services, please introduce yourself to us. We generally have a member from the committee serving as a greeter. We want to meet you and get to know you better!
Each summer the Membership Committee holds an Ice Cream Social for prospective members in a fun, family-friendly, and informal setting. This is a great way to meet the Rabbi, the Board of Directors, and others considering joining our Jewish Community. Every winter the committee hosts a New Member Event to formally recognize and welcome those who have joined within the past year. Throughout the year we sponsor a variety of social events to encourage all members to get to know each other better and to deepen the bonds within our Jewish Community.
Please don't hesitate to contact us if you have any questions.
Ann Suloway                               Rita Spitzer
360-296-8220                             360-927-1555
asuloway@gmail.com      ritaspitzer01@gmail.com