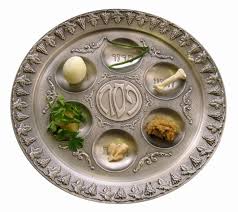 5:30 p.m. Saturday, March 31, 2018
Beth Israel's family friendly community seder is on the second night of Pesach. Everyone is welcome to attend this event, including nonmembers! Led by Rabbi Joshua Samuels and cantorial soloist Andrea Shupack, the seder will include a delicious Passover buffet dinner with vegetarian, gluten-free and dairy-free options, as well as Manischewitz wine. Join us for a fun, lively and upbeat retelling of the Exodus story, sure to please young and old alike. We hope to see you there!
Seder will begin at 5:30 p.m. (doors open at 5 p.m.) at Settlemyer Hall, 3028 Lindbergh Ave. Free parking; venue is wheelchair accessible. Download driving directions here.

Register online   or download the form and return it to the office, by March 21.
Some photos from past seders: