The Beth Israel community will have an ALL READ event 11 a.m. to 1 p.m. Sunday, July 21, 2019, sponsored by the Social Action Book Group. The books to be discussed are: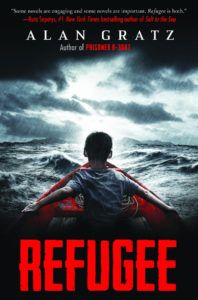 REFUGEE by Alan Gratz. REFUGEE is a young adult historical fiction novel that features 3 stories in one; Josef, a Jewish boy escaping Nazi Germany in the 1930s, Isabel, a Cuban girl escaping Castro's regime in 1994, and Mahmoud, a Syrian boy fleeing from the conflict in Syria in 2015.
Adults can also read THE LINE BECOMES A RIVER: DISPATCHES FROM THE BORDER by Francisco Cantu. "… a lyrical and moving account from a third-generation Mexican-American who spends four years seeing for himself the horrors endured by `crossers.' "
These books give a timely perspective on immigration and refugees.