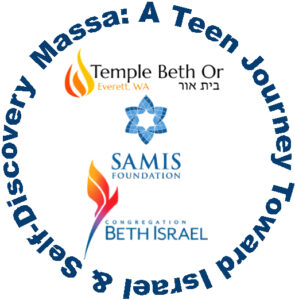 Congregation Beth Israel and Temple Beth Or in Everett are recipients of a joint grant from the SAMIS Foundation in Seattle for a new Israel studies pilot program, MASSA: A Teen Journey Toward Israel and Self-discovery. We are now registering post B'nei Mitzvah students who are interested in participating.
The program will meet once a month, October 2022 and through May 2024, during regular religious school hours. The curriculum will focus on Israeli history, geography, people and current events, including a significant focus on environmentalism and climate work being done in Israel. Students from both synagogues will hear from guest speakers and have opportunities to study and learn together.
Students who have participated throughout the entire program will have the option of traveling to Israel with the group in July 2024 for a two-week immersive experience.
To register, please compete this form.