Annual Purim Carnival
12:30 to 2:30 p.m. Sunday, March 8, 2020
Purim is a time for all ages to dress up in silly costumes, eat hamantashen, and be merry. This year's Purim Carnival will feature carnival games with prizes, a costume parade, face painting, henna art, a fortune teller, balloon animals, two jugglers who do magic, chair massage, and a teen ping pong/game room.
PLUS: Adults-only Casino room with beer and wine available for purchase.
Pizza by the slice, salad, sundaes, popcorn, hamanatashen, and beverages will be available for purchase with carnival tickets.
Tickets for activities and food are 2 for $1 at the door. Online sales are now closed.
Purim Spiel & Megillah Reading
6:30 p.m. Monday, March 9 , 2020
Join us to hear a reading of the Megillat Esther, then get ready to cheer and boo as a group of brave souls present a Purim Spiel based on "Little Shop of Horrors," written by Mark & Naomi Pomerantz and directed by Andrea Shupack.  Food, drinks and music will follow; costumes are encouraged.  Don't miss the fun!  In lieu of groggers, please bring a box of noisy, nonperishable dry food which will be donated to the Food Bank after the spiel.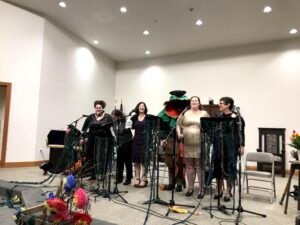 Photos from Purim Carnival 2020: