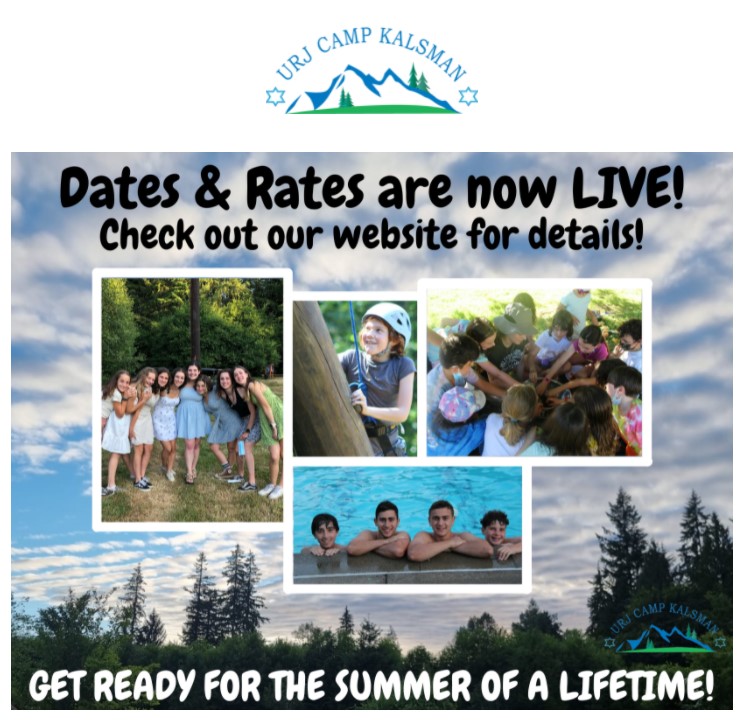 Check out Camp Kalsman's website for dates & rates!
Registration for Summer 2022 opens…
Monday, October 25th for returning campers!
Wednesday, November 3rd for URJ Congregation Members!
Monday, November 29th for everyone!
What Can I Expect This Year?  
A summer of fun at Camp Kalsman!
Conquer the high ropes obstacle course, cruise down the zipline, dance like no one is watching during shabbat shira, kayak in Butterfly Lake, watch a stunning sunset with your bunkmates and sing havdallah around the campfire while you look up at the stars– all your favorite activities at the heart of camp are here waiting for you to return! 
Longer sessions and a variety of options! 
We know our families value having session options of different lengths to work with busy summer schedules. We will return to our traditional offering of three sessions with embedded sessions (shorter sessions within our longer sessions) in Kallah Bet and Kallah Gimmel. We have also added one extra day to Kallah Aleph and added two days back to Kallah Bet and Kallah Gimmel. Check out our dates & rates!

What does a summer at URJ Camp Kalsman look like? Sunshine, swimming, T'filah on the lake, T'filah in the woods, hiking, climbing, art, sports, Tikkun Olam, rocking song sessions, goats on walks, Shabbat Shira, friendships, laughter, and a staff of inspiring Jewish role models. 
Camp Kalsman offers a variety of sessions for campers entering grades 2 through 12.  You can register online at campkalsman.org/register. Call the Camp Kalsman office at (425) 284-4484 or email  campkalsman@urj.org for more information. Financial aid and scholarships are available.
We're lucky to have Camp Kalsman in our back yard — just an hour's drive from Bellingham, south to Arlington.
Scholarship applications can be made through the Jewish Federation of Seattle and One Happy Camper.
Go to Israel with Camp Kalsman!
Together with your URJ Camp Kalsman friends, create and be part of an immersive traveling Jewish community as you explore ancient Jerusalem and modern Tel Aviv, the beautiful Galilee and the stunning Negev Desert. nftyisrael.org/kalsman/
Thanks to a generous gift from the Samis foundation, the first 60 Kalsman registrants will receive a $3,750 subsidy. Scholarships are also available!
Beth Israel campers, staff and parents at Camp Kalsman