Up to 8% of your Amazon purchase will go to Congregation Beth Israel's Religious School! Each time you shop you will need to click on the Amazon link below – your Amazon Prime membership will be just as if you entered Amazon directly. You can use Amazon Scrip to pay for your orders, too! Spread the word!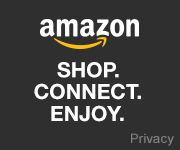 * Congregation Beth Israel is a participant in the Amazon Services LLC Associates
Program, an affiliate advertising program designed to provide a means for sites to earn
advertising fees by advertising and linking to amazon.com.