4 p.m. June 6, 2021 on Zoom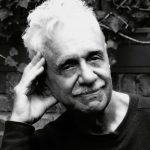 Join Congregation Beth Israel for a talk with author Jonathan Ned Katz, about his newly released book (May 18, 2021), The Daring Life and Dangerous Times of Eve Adams. Congregant and Katz's longtime friend, Emily Weiner, will interview Jonathan and moderate a Q&A (registration information will be provided in the Timbrel newsletter the week before).
Historian Katz uncovers the until-now forgotten story of radical lesbian Eve Adams and her long-lost book Lesbian Love, which led to her arrest, deportation and eventual murder by the Nazis at Auschwitz.
Read more about this event in the May/June 2021 issue of the Shul Shofar.
This CBI Programming Committee event is co-sponsored by Village Books and two units of Western Washington University: Western Libraries' Heritage Resources and The Ray Wolpow Institute for the Study of the Holocaust, Genocide, and Crimes Against Humanity.